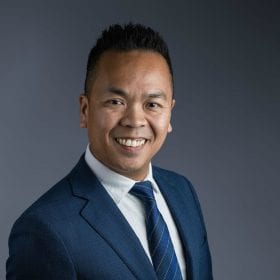 Adam Ly is the Managing Director and Principal Solicitor of LY Lawyers Pty Ltd.
Adam is a highly respected and well known Criminal Law specialist.
With more than 20 years experience in the Criminal Law industry, Adam appears daily in the Local Courts, District Courts and the Supreme Court of NSW, and has extensive experience with complex appellate matters in the NSW Court of Criminal Appeal.
Adam is currently involved in the firm's most serious cases, including defending our clients charged with murder, large commercial drug importation and supply, serious sexual assault and complex fraud matters and serious interstate prosecutions. Backed by a dynamic team of lawyers and paralegals at LY Lawyers, his firm is recognised as amongst the most reputable in New South Wales.
Other than in New South Wales, Adam has appeared for clients in serious criminal cases in Victoria, Queensland, Western Australia and the Northern Territory. He has also appeared in District and Supreme Court trials in Victoria, Western Australia, Northern Territory and Queensland. He has achieved huge success for clients who have been charged with extremely serious criminal offences throughout Australia, including numerous 'not guilty' verdicts in long criminal trials throughout Australia. Adam has worked to some of Australia's most reputable Criminal Law barristers in criminal trials, and thrives on his work on serious, complex and demanding criminal law cases.
In NSW, Adam has been representing clients in numerous courts throughout the metropolitan area and country NSW. He continues to strive to protect the rights of those who have been accused of criminal offences who may not have access to specialist criminal lawyers in regional areas.
Adam is highly regarded for his commitment to his work and clients, and his forthright and direct approach to criminal practice. His dedication to the principles of justice and fairness are what separate him from other criminal law advocates.