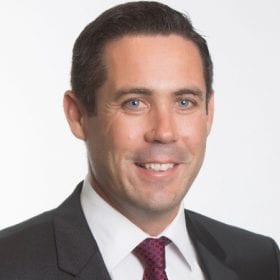 Adam West is a Principal Lawyer and both an Accredited Specialist in Family Law and an Accredited Family Law Mediator and Arbitrator, with more than a decade of experience in family law matters. He has significant expertise across all areas of family law which sees him regularly dealing with parenting and custody arrangements as well as property and financial settlements, which can often involve complex issues and large property pools.
Adam is a highly skilled negotiator, which helps clients to resolve their matters without having to go to court. For matters where legal proceedings are inevitable, Adam is a competent advocate when appearing at court for his clients, and regularly appears in the Family Court of Australia and Federal Circuit Court of Australia, including travelling interstate for matters. Adam has appeared for clients in other jurisdictions including Local, District and Supreme Courts of New South Wales, and the Social Security Appeals Tribunal.
Adam has developed key relationships with various service providers commonly involved in family law disputes including doctors, counsellors, family dispute resolution practitioners, mediators, property valuers, accountants and forensic experts. Adam also has a number of key relationships with reputable barristers who practise exclusively in family law including some noted senior counsel.
A key member of the Coleman Greig Family Law team, Adam cuts through the confusion of complex matters and helps clients to determine the best way to move forward. He takes the time to make sure that clients have a clear understanding of the steps involved and what is required of them throughout their matter.
Professional and solutions focused, Adam handles what are often difficult and emotional matters for clients with diplomacy and understanding. His thorough knowledge and expertise ensures that clients receive the best possible outcome for their matter. Adam also believes having open communication with his clients is of utmost importance in ensuring that clients are kept informed across every step of their matter. He works closely with his clients in developing strategies and ways of being able to progress their matter to achieve the best possible outcome.
Adam previously spent seven years as a Co-Director at Cox West Lawyers in Penrith. During his time in this position, he developed a solid reputation and was one of only a very small number of Accredited Specialists practising family law in Penrith, and the Nepean, Blue Mountains and Hawkesbury regions.
Adam has sat on the Legal Aid Commission of NSW Panel for Family Law Solicitors, representing clients who receive legal aid funding, and has done pro bono work through the Hawkesbury Nepean Legal Centre.