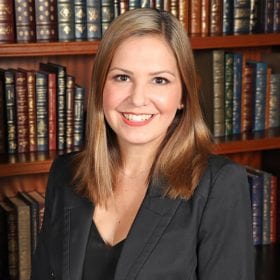 After graduating from the Law School at Adelaide University with Honours in July 2005, Alicia secured a spot for herself as a clerk at a well known Adelaide based commercial law firm, but already knew that the discipline she wanted to specialise in was Family Law. By way of a baptism by fire, Alicia was introduced to the many aspects of a busy commercial Family Law practice and has continued to practise solely in the jurisdiction ever since.
Alicia has in her career amassed substantial experience in difficult matters involving both property settlement and children's issues. She has been involved in complex and protracted litigation of property settlement matters involving commercial areas of law such as bankruptcy, corporate/company and trust law. The exposure Alicia gained from working in a commercial law firm has meant that she has a commercial nous not always found in Family Lawyers.
Whilst she enjoys the challenge of complex property settlements which forms most of her practice these days, Alicia also has considerable experience in running children's matters from straightforward live-with/spend-time-with issues to international and domestic relocation matters. No matter how complex the matter, Alicia works vigorously to ensure that the case put forward for her client is well presented, leading to the best possible outcome for her clients.
Alicia also has significant experience dealing with defacto relationships and domestic partnerships. She has run and settled a number of defacto matters and is well versed in drawing Financial Agreements and Consent Orders for clients for whom she has been able to secure an agreed settlement without litigation.
Alicia has built strong relationships with many of Adelaide's well known Family Law Barristers and she is experienced in briefing Counsel in a wide range of Family Law matters.
For many years Alicia was the Deputy Chair of the Family Law Committee of the Law Society of South Australia.
Alicia prides herself on her diligent approach to all matters and her personable manner with her clients. She is an empathetic and sensible practitioner, but also a strong and effective advocate for her clients. She is highly skilled and works hard to achieve the best possible result for her clients.
Alicia, having completed the Law Society of South Australia course for Specialist Accreditation in 2011, is the second member of our Firm who is now a designated Accredited Specialist in Family Law and one of only a small number in South Australia.
Doyles Guide recognised Alicia's work in Parenting matters in 2018, recommending her as a lawyer in this field.