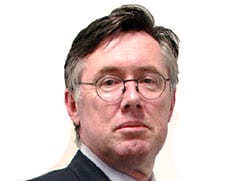 Andrew George has over 25 years experience as a defence lawyer and was first admitted into legal practice in 1989. Andrew has been an accredited criminal law specialist since 1995.
Andrew appears as an advocate on behalf of his clients on a regular basis and has appeared in all Victorian criminal courts, many tribunals and at Royal Commissions.
Andrew's vast experience in defending clients enables him to fully understand the vital role of strategy and planning in the successful outcome of any matter. His established reputation provides his clients with a respected voice in the courts.
Andrew began his legal career in the criminal law section of the firm Slater & Gordon. Since admission in 1989 he has practised in Melbourne's western suburbs as well as the Melbourne CBD. As a partner of Doogue + George, Andrew oversees all matters run out of the Sunshine office as well as undertaking his own case work practice which is based in our CBD office.
Andrew is a former Chair of the Buoyancy Drug Foundation and was a member of the committee of management of the Public Interest Clearing House (now known as Justice Connect) for over 10 years. Andrew lived and worked in Papua New Guinea assisting in the establishment of that country's first community legal service. He is currently a member of the Monash University Clinical Program Advisory Committee, and the Business Crime and Anti Corruption and Bribery sections of the International Bar Association.
Andrew represented an accused person in IBAC's first major prosecution, Operation Fitzroy. As a result of that and his other experience in appearing before IBAC, he wrote an ebook on the legal issues involved when appearing before IBAC. It is a discussion of the investigative processes surrounding corruption charges in Victoria. The title of the ebook is "Appearing before the Independent Broad-based Anti-corruption Commission (IBAC)" and can be downloaded here. It is now available on various sites such as Google Books and Bookyards.
Andrew has developed a practice in international criminal law representing clients with interests overseas including in China and Vietnam. He also represents Australian based clients's facing corruption and bribery charges involving overseas government officials. Andrew regularly participates at international criminal law conferences to ensure his client's have access to the latest trends in the USA, UK, Europe and Asia.
As a former member of the Nurses Board of Victoria disciplinary tribunal, Andrew has a particular interest and experience in health industry disciplinary proceedings.
Andrew is committed to achieving the best outcome in your case and recognises that no matter what the charge or allegation, your case is vital to your future.