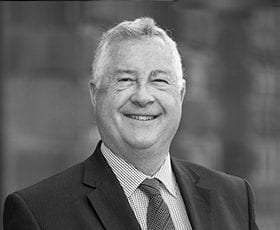 Andrew Robson is a Principal Lawyer at Harwood Andrews Ballarat. He joined the team at Cuthberts Barristers & Solicitors in October 1996 and was made a Partner in July 2000. In July 2013 he became a Principal Lawyer of Harwood Andrews when the two firms merged.
With over 45 years' experience in the legal industry, Andrew brings a wealth of knowledge to the Harwood Andrews team.
Andrew graduated from Deakin University with a Bachelor of Laws (Honours) and also has a Bachelor of Business from Monash University. Andrew is an Accredited Specialist in Wills and Estates.
Andrew is very engaged in the Ballarat community. He is a secretary of the Old Colonists' Association of Ballarat Inc, a philanthropic organisation that has been serving Ballarat Community since 1883. He is a past board member of Ballarat Foundation, United Way Ballarat and a past president and treasurer of PINARC Disability Support Services.