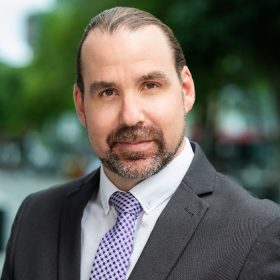 Calvin is a highly experienced criminal and professional misconduct lawyer who advocates for the protection of fundamental legal rights for his clients, including the presumption of innocence and the right to a fair trial.
Calvin gained his early legal experience in the criminal justice system as a sworn police officer in Queensland successfully preparing briefs of evidence to present to courts and juries convicting offenders of serious criminal charges.
He later became a prosecutor in charge of a regional prosecutions unit. Calvin quickly became an accomplished prosecutor arguing complex cases, including murder, drug trafficking, rape and more. Calvin prosecuted both at summary trial and committal hearing stages of the proceedings before the Magistrates Court.
Since commencing practice as a criminal and professional misconduct defence lawyer, Calvin has gained extensive experience appearing regularly as a lawyer advocate in the Magistrates Court, District Court, Coroner's Court, Queensland Industrial Relations Commission and Queensland Civil and Administrative Tribunal.
Calvin's experience extends to appearing regularly as an instructing lawyer in the Supreme Court, Queensland Court of Appeal and High Court of Australia.
Calvin is highly experienced in dealing with the Crime and Corruption Commission having appeared before the Commission on behalf of clients with significant regularity and success. His appearances include but are not limited to Operation Tesco on behalf of Police Officers and Operation Belcarra (Inquiry into Local Councils).
Calvin has appeared before the Queensland Flood Inquiry, Federal Royal Commission into Institutional Responses to Child Sexual Abuse and Queensland DNA Inquiry.
Calvin is very active in the legal profession appearing on behalf of the Queensland Law Society (QLS) before government public consultation committees in regard to bills before parliament.  Calvin is a regular author of publicly produced legal articles and presents regularly at professional development events for lawyers.
Calvin has extensive experience in the area of professional misconduct and corruption investigations having successfully represented, police officers, lawyers, teachers, security officers, nurses, town planners, Councillors, public servants and others in corruption/professional misconduct/licensing proceedings.
Calvin has a passion for tradition within the law and maintains an active voice for the protection of fundamental legal rights such as self-incrimination privilege, legal professional privilege, the presumption of innocence and the right to a fair trial.  Calvin has pursued fundamental rights cases all the way to the High Court.
Calvin is also an advocate for mental health awareness and advocates against bullying within the legal profession and workplace generally.
In Calvin's private time, he enjoys travelling and spending time with his wife Aleisha and his three children. Calvin is a passionate sports fan and particularly enjoys the time of year when Queensland win the State of Origin!
What Calvin can help with 
Criminal Law
Corruption Allegations/CCC Compulsive Hearings
Councillor misconduct
Bail Applications
Parole Applications
Traffic Offences
Disciplinary and Professional Misconduct Law
Coronial Inquests
Judicial Reviews
Commission of Inquiries
Qualifications and memberships
Bachelor of Law
Graduate Diploma of Legal Practice
Queensland Law Society (QLS) member
Chairperson of the QLS Occupational Disciplinary Law Committee
Member of the QLS Ethics Committee
Member of the QLS Judicial Commission Committee
Member of the University of Queensland Electoral Tribunal
Admitted to the Supreme Court of Queensland
Admitted to the High Court of Australia