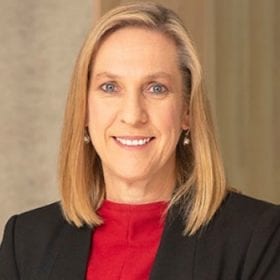 Caroline Hutchinson leads a dynamic group of commercial litigators who deal with a wide variety of issues ranging from contractual disputes to intellectual property proceedings, misleading and deceptive conduct through to insolvency matters.
With extensive experience in litigation, Caroline brings a pragmatic perspective in advising clients whose large-scale commercial projects involve complex contractual disputes and litigation. Working with national clients in various sectors including Australian subsidiaries of multinationals, Caroline draws on a comprehensive understanding of the differing legislative requirements across the various Australian states.
She is well-placed to assist in mitigating the risks involving the effects of litigation on a company's corporate profile – her considerable professional experience is underpinned by a practical approach to achieve success on their behalf. With her keen grasp of commercial realities, Caroline has also developed high level skills and expertise in alternative dispute resolution processes, pursuing the resolution of disputes in the environments of both threatened and ongoing litigation.
Caroline is a graduate of the Australian Institute of Company Directors and possesses a sound understanding of the financial and governance issues affecting companies. Passionate about the development of lawyers Caroline is known as an advocate in the legal profession. Caroline has been a member of the Litigation Law and Practice Committee of the Law Society of NSW since 2014.
Strongly committed to the community, Caroline is also the Ambassador for Coleman Greig's Women in Business Forum, working in partnership with sponsors and the not-for-profit organisations which are supported at the events.
Caroline was a 2016 Finalist in two areas of law for the inaugural Lawyers Weekly Partner of the Year Awards: Dispute Resolution and Litigation, and Commercial Law. In 2017, Caroline was a Finalist in the Lawyers Weekly Women in Law Awards, Partner of the Year.