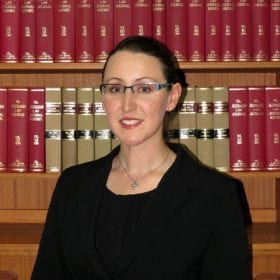 Claire has significant experience in the areas of employment law, commercial dispute resolution and work health and safety law. She has held senior positions in some of Sydney's leading law firms, and has provided advice and representation in the abovementioned areas to clients ranging from individuals and small-to-medium businesses, through to government authorities and large publicly listed international corporations.
Having been admitted in both the Supreme Court of NSW and the High Court of Australia, Claire has appeared in the Local, District and Supreme Courts of NSW, as well as the Federal Court and Federal Circuit Court (formerly the Federal Magistrates Court). She is an experienced negotiator and litigator, and has conducted complex multi-million dollar commercial litigation.
Claire has acted for employers and employees in various industries; providing advice and representation in all areas of employment law. This has included: employment contracts and policies, performance management, investigations, privacy issues, unfair dismissal claims, general protections (adverse action) claims, discrimination claims and breach of contract disputes.
In the area of work health and safety law (formerly known as occupational health and safety law), Claire has conducted prosecutions on behalf of WorkCover NSW, and has also advised and represented numerous individual and corporate defendants.
Claire has written and co-authored articles and book chapters for leading industry publications by CCH and Thomson Reuters. She is a member of the Law Society of NSW, the Australian Labour Lawyers Alliance, and NSW Women Lawyers (& Co-Chair of the Thought Leadership & Policy Sub-Committee).