Coleman Greig Lawyers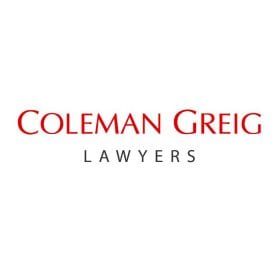 Coleman Greig Lawyers offers individuals and businesses, award-winning and tailored legal expertise.
Servicing the needs of clients for over 90-years, some of the key areas in which we are renowned include:
Specialist Family Law Services – with a team of accredited specialists in family law, Coleman Greig has a highly skilled team of family lawyers who can help you navigate what is often a very difficult and complex journey.
Commercial, Employment and Property Law Services – we work as trusted advisers with businesses in Australia to provide commercially practical solutions for all their needs whether it's business structuring, contracts, debt recovery, intellectual property, workplace issues or commercial leasing requirements to name a few.
Wills & Estate Planning and Retirement Living – our team offers expert advice in these highly specialised areas to ensure clients understand how to best plan for the future.
Superannuation, Trusts and Taxation – with award-winning experts in taxation, trusts and superannuation law, Coleman Greig gives you access to our lawyers who can handle your personal and commercial matters efficiently and provide advice that can minimise your tax exposure.
With offices in Parramatta, Norwest, Penrith, Sydney CBD and Campbelltown-Macarthur, we bring the highest level of experience to the Greater Sydney region and provide clients with the best possible service.