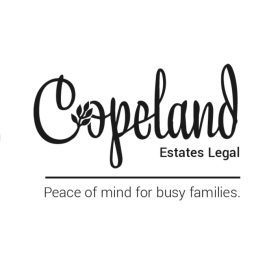 We are an online law firm looking after Wills, Estate Planning, Probate and Deceased Estate matters for busy families who want to sort out their legals from the comfort of their own home or office without needing to carve time out of their busy schedules to fit it in.
We can help with getting your Wills, Powers of Attorney and Enduring Guardianships documents in place so that your family will be looked after on your passing or if you become unable to look after your own financial and medical decisions. Getting your affairs sorted does not need to be hard or time consuming, we have experienced lawyers who are experts in this field and can provide you with the right advice to make sure your estate planning is iron clad and provides the protection you need for you and your family.
Why choose Copeland Estates Legal to be your Wills and Estates Lawyer?
We look after holistic solutions to realise your goals and satisfy your needs so that you and your family are financially protected and are mentally at ease.
Custom legal solutions to look after your unique family

Online for your convenience

Experienced and knowledgeable solicitor

Transparent fixed fee pricing
Practical legal support.
We understand it's not a nice time and having to deal with the practicalities feels all too hard – whether it's trying to discover what assets need to be dealt with, figuring out what to do with the Will (or finding out there may not be a Will), dealing with organisations and their requirements.
You can access the legal advice and services you need online, by phone, zoom and/or email, from the comfort of your own home or office.
Fixed fee transparent pricing. Know upfront what you're up for.
Our
prices
are on our (virtual) front door. We celebrate happy clients rather than hours billed. We use technology for better outcomes and better client experiences to fit in with your busy life. 
Clear legal advice. "One size fits all" does not fit all when it comes to estate planning.
Sometimes it's hard taking that first step to getting your Wills and Estate Planning sorted because you simply don't know what you need. All goals are valid and maybe you're trying to protect your family against future claim, maybe you're anticipating a family member will have a marriage breakdown, maybe you're looking to tie up the most effective, simple plan for your family to trigger one day.
We'll give you a hint: creating a solution is what we're here to help you with. If you don't know what you want because it feels all too hard,  we help clarify your thoughts and give you clear advice to put into action something that will achieve your goals and look after your family's future.