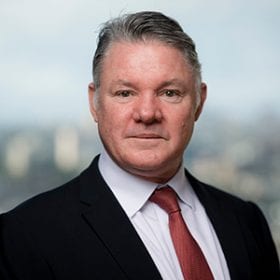 Courtenay Poulden was admitted as a Solicitor in 1986 and became a partner of the practice in 1990. He is accredited by the Law Society of New South Wales as a Personal Injury Law Specialist and is one of the contributing authors to the Personal Injury Law Manual in New South Wales, published by the Law Book Company.
Courtenay Poulden has a long history of helping people who are disadvantaged by injury to get compensation. As well as being a judicial member of the New South Wales Rugby Union in his spare time, he has been involved in many leading compensation cases including claims which have gone to the High Court. He is a member of the Australian Lawyers Alliance and the American Trial Lawyers Association and is experienced in mediation and other forms of alternative dispute resolutions.
He has been recognised by the Motor Accident Authority as an expert in the field of motor accident compensation by appointment to its panel of specialist lawyers in catastrophic injury cases for children.
Courtenay also acts for clients in life insurance claims, including TPD and income protection claims.
Successful life insurance claims for both TPD and income protection policies require a solicitor to have experience in dealing with particular contractual and policy issues that arise in bringing such claims against life insurance companies and the trustees of superannuation funds.