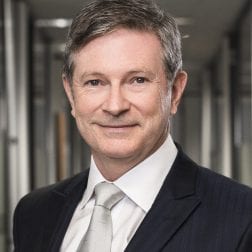 Prior to joining Paterson and Dowding in 2006, Craig managed his own law firm and was previously a founding partner in a personal injury, family law and insurance firm for over 10 years. Craig now concentrates on family law property and financial disputes.
Craig has practised as a family lawyer in Perth since the early 1990s and is recognised as one of the Leading Family & Divorce Lawyers in WA by Doyles. He accepts instructions in all property related matters ranging from small estates to large, complex financial disputes involving such things as:
Family Trusts
Unit Trusts
Trading Companies
Businesses
Partnerships
Splitting of both self managed and institutional superannuation funds
In the family law context, terminating financial relationships and dividing property can give rise to complex taxation, valuation and accounting issues. Craig will work with your accountant and other advisers, or help you appoint other experts to ensure the accurate identification and valuation of assets in order to reach a fair property settlement in a tax effective manner. Parties in family law disputes have to make important financial decisions at probably one of the most emotional times of their lives. Craig will give you calm, objective advice to help you make the right choices. Craig is an experienced negotiator. He understands the need to identify tactics and strategies to bring about early settlement. Although we will focus on negotiation and mediation at all times, Craig recognises the importance of litigation and when to use it. Sometimes you need to litigate in order to negotiate.
In his spare time Craig is a keen surfer and sailor of radio control yachts. He likes to travel to a surf break somewhere in the world at least once a year.