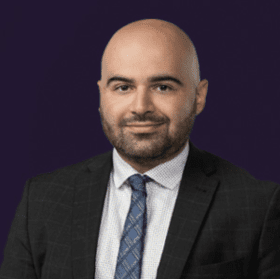 Danny is an Accredited Specialist in Personal Injury Law practising in the workers compensation and work injury damages claims areas of insurance litigation as well as acting for insurers in section 151Z recoveries.
Initially commencing his career acting for injured workers, Danny moved to work as in-house counsel at Suncorp (GIO) where he gained experience in the complex legal issues that can arise in workers compensation.
Known for his practical approach to claims management, Danny moved back to private practice advising insurers and employers where he was able to utilise his industry experience to provide sound and practical advice.
Qualifications/Memberships
Accredited Specialist (Personal Injury Law)

Accredited Mediator (National Mediation Accredited Standards)

Bachelor of Laws (UWS)

Admitted to practice as a solicitor to the New South Wales Supreme Court in 2009
A word from Danny
"Using both my in-house counsel and private practice experience, I approach the early resolution of claims in a practical, commercial and holistic way and am always conscious of the varied stakeholders involved."
Career highlights
Olah-Jewell v Secretary, Department of Education [2021] NSWWCCMA 9. We were successful in defending against the worker's appeal wherein she submitted that the Medical Assessment Certificate (MAC) was based on incorrect criteria and/or there was a demonstrable error by suggesting that various categories in the PIRS scale were inaccurate including submissions noting that the AMS did not obtain a proper history.

Zubary v SM NSW Pty Ltd [2020] NSWWCC 296. We were successful in our defence. The arbitrator agreed with our submissions and found that the worker had not persuaded him of having sustained a workplace injury and this was despite the insurer having already made payments of weekly compensation and medical expenses.

Freeman v Secretary, Department of Education [2019] NSWWCC 417. We were successful in arguing that although arbitrators have jurisdiction to determine matters pertaining to Maximum Medical Improvement (MMI) at their discretion, in this matter involving CRPS, the arbitrator should not exercise such discretion.

Successfully defending a work injury damages matter brought by a police officer in the District Court, Sills v State of New South Wales [2018] NSWDC 119 before the decision was overturned at the Court of Appeal, Sills v State of New South Wales [2019] NSWCA 4.
Specific areas of focus
Defending claims brought by workers employed by the State of NSW, including but not limited to, NSW Police Force, Fire & Rescue, NSW Health, TAFE and the Department of Education.

Successfully defending work injury damages matters in the District Court of NSW and in the workers compensation commission for both government and non-government employers.

Statutory matters including claims relating to weekly payments, medical expenses and lump sum compensation.

Psychiatric injuries including acting in various matters relating to complex psychological injuries.

Acting in appeals including successfully appealing and opposing appeals against Medical Assessment Certificates (MACs).