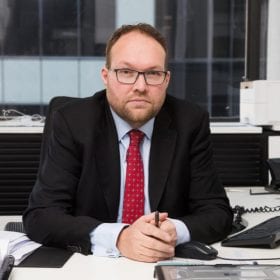 For as long as I can remember I have been an advocate for people's rights.
I attended Monash University and was elected, at the end of my first year, the Faculty Liaison Officer of the Students Society. A few years later I became involved in student politics and was elected the National Education Officer of the National Union of Students.
After finishing my law degree I worked as an Industrial Officer for the National Tertiary Education Union in Tasmania for three years. I left this job and moved to Sydney in 2000 to become a lawyer.
In January 2001 I joined Turner Freeman Lawyers at its Parramatta Office as a law graduate and then solicitor. For the first seven years I worked as part of the group prosecuting claims for victims of asbestos diseases. I loved (and continue to love) this work and have been humbled by the privilege of representing and helping people at a terrible stage of their lives and the trust they have placed in me to get the best result possible. I was involved in a number of test cases including two matters that ended in the High Court, both of which have had significant effects on the law and the ability of victims of asbestos disease to recover damages. As a result of one of these claims insurers now need to prove the limit of a policy of insurance rather than a victim proving a policy was unlimited.
From 2007, in addition to asbestos work, I have practiced employment and industrial law acting for individuals in claims for unfair dismissal, adverse action, underpayment, harassment and discrimination as well as acting for a number of unions in enterprise bargaining, workplace determinations and industrial disputes. I became a partner of Turner Freeman in 2007 and, from 2009, was the the National Practice Group Leader for employment and industrial law at Turner Freeman. In 2010 I became an accredited specialist in employment and industrial law.
I have acted in a number of significant employment and industrial matters. I was the solicitor for the Australian & International Pilots Association during the dispute between Qantas pilots (and other Qantas employees) and Qantas management in 2011-12 (when Qantas grounded the airline). I ran the first successful claim under the Independent Contractors Act and one of the few successful sexual harassment claims resulting in a significant award to a woman who suffered serious psychological trauma as a result of harassment and victimisation.
In 2016 I decided, with my colleague Tanya Segelov, to establish Segelov Taylor Lawyers. Our mission is to provide high quality, personalised legal services in a few core areas.