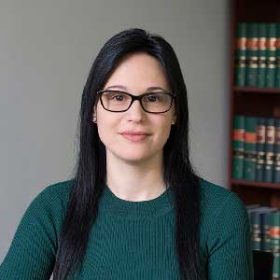 Dee is based in our Melbourne office, after spending 3 years based at Broadmeadows. Dee appears regularly in all Victorian suburban and regional Courts. Dee has also appeared in the Hornsby Local Court, Downing Centre Local Court and Sydney District Court.
Dee began her criminal law career at Doogue + George Solicitors in 2012 whilst completing her post graduate studies. She completed her degree at the University of Adelaide.
Dee does a lot of work assisting clients with pre-charge strategies which often have led to clients being interviewed but not charged. These are often collaboratively handled with Queen's Counsel. This involves extensive investigation and statement compilation to ensure that our client's narrative of events is taken into account before the decision to prosecute is made.
Her ability to speak Greek is an asset to the firm. She enjoys her role as a solicitor advocate and appears on pleas of guilty, bail applications, breach proceedings, diversions, case conferences, contest mentions and all matters in the Children's Court. She appears on pleas, appeals and breach proceedings in the County Court and regularly instructs barristers who are representing defendants in County Court and Supreme Court trials.
Her file load includes a variety of matters including sexual offending, driving matters, white collar crimes, violence and she is the go-to for many of our clients facing issues with significant amounts of infringements. She is a co-author of our ebook Pleading Guilty in a Criminal Matter.
She also has a strong practice in representing clients with indictable matters in the County Courts of Victoria.
Dee is a member of the Young Lawyers Section of the Law Institute of Victoria.
 
Dee Giannopoulos is recognised as a Rising Star Criminal Defence Lawyer in the Doyle's Guide 2020. Doogue + George is listed as a First Tier Criminal Law Defence Firm in the Doyle's Guide 2020.