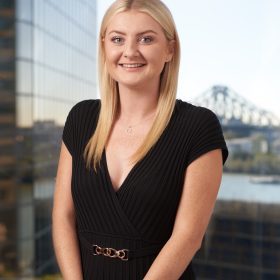 Emily has worked in family law since April 2021 and was admitted as a solicitor in August 2022. Emily is employed at Lewis & Trovas Family Lawyers located in Brisbane's CBD. A disciplined and organised practitioner, Emily has a genuine passion for family law and has a particular interest in complex financial matters.
Emily's dedicated attitude ensures she takes the time to understand the complexities underpinning her clients' circumstances, thereafter applying her legal training and professional experience to develop a strategic approach to each dispute.
Emily's calm and compassionate nature assists her in guiding her clients through the turmoil which often accompanies relationship breakdowns.
With a strong desire to continuously build upon her legal knowledge and give back to the wider community, Emily regularly volunteers at Women's Legal Service, and is a registered and active member of the Family Law Practitioners Association, Family Law Section and the Queensland Law Society.
Emily holds a Bachelor of Laws (Hons) from the Queensland University of Technology, and a Graduate Diploma in Legal Practice from the College of Law.