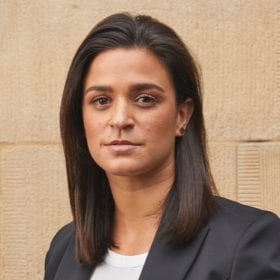 Isha Caulfield, principal solicitor at Caulfield Solicitors is a NSW Law Society Accredited Specialist in Criminal Law meaning that her expertise and competence has been recognised within the legal profession.
Isha is an accomplished advocate who has a reputation as a robust, focused and confident lawyer. 
She provides a premium, client focused service across the Children's, Local, District and Supreme Court in New South Wales and interstate.
Having worked in regional New South Wales and remote parts of the Northern Territory, Isha started Caulfield Solicitors with a clear purpose; to provide a first-class criminal defence service, where the voices of her clients are heard. 
Isha has advised, represented and successfully defended clients involved in a range of criminal matters including traffic matters, drug possession, drug supply, firearm charges, fraud, money laundering, matters involving serious violence, sexual assault, and murder. 
Isha works closely with a team of trusted and respected barristers to ensure her clients are provided with specialist advice and only the highest quality in advocacy.  Her professional goal is to ensure not only that her clients receive the best possible outcome, but that her clients feel supported and guided as they navigate through the stressful court process.