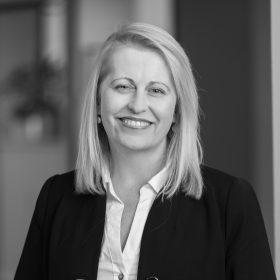 Jacqui is the Principal of Sexton Family Law and an Accredited Specialist in Family Law. Jacqui has practised in family law for over two decades and has considerable experience in the family law jurisdiction. Jacqui is known for her direct advice and ability to confidently navigate clients through their family law matter. Jacqui assists clients to negotiate an agreement wherever possible, but in the event it is necessary, Jacqui has extensive experience in litigation before the Federal Circuit Court and the Family Court of Australia. Jacqui's experience ranges from complex financial cases to relocation applications to parenting matters involving serious allegations of family violence.
Prior to becoming the Principal of the firm, Jacqui worked at Robyn Sexton & Associates and remained a Principal of the firm when Robyn Sexton was appointed to the Federal Magistrates Court (as it then was). In early 2015, the firm changed its name to Sexton Family Law.
Jacqui is recognised in the 2019 Doyle's Guide as a recommended Parenting & Child Matters Lawyer. Jacqui is also a finalist for the Lawyers Weekly Partner of the Year Awards 2020 in Family Law.
Jacqui's areas of expertise include:
Property settlements, including matters with substantial asset pools, complex structures and intervening third parties;
Complex parenting cases, including matters involving serious allegations of family violence and relocation applications;
Spousal maintenance and adult child maintenance;
Child Support;
Injunctions and restraining orders;
Cohabitation, pre-nuptial agreements and post nuptial agreements; and
Divorce Applications.
Jacqui was admitted to practice in December 1994.
Qualifications
University of Sydney, BA / LLB
University of Sydney, MA
Graduate Diploma of Legal Practice
Accredited Specialist (Family Law) since 2001
Graduate of the Australian Institute of Company Directors
Membership
Member of Law Society of New South Wales
Member of Family Law Section of the Law Council of Australia
Member of the Specialist Accreditation Board, NSW Law Society
Member of the Family Law Committee, NSW Law Society
Member of the Professional Conduct Committee, NSW Law Society