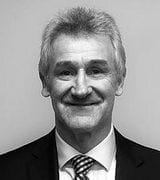 John was admitted to the NSW bar in 1980, after 5 years of practice in Canberra as a Solicitor/Advocate. He has over 40 years' experience working in Criminal Law and is recognised as the leading authority on the NSW Bail Act. 
John is a specialist Defence Barrister in the NSW Supreme, District and Local Courts and appears most regularly in cases alleging Murder, Serious Sexual Assaults and Commercial Drug charges. He is the Barrister of choice for many high-profile clients and is renowned as an expert in all aspects of Trial Advocacy, particularly cross examination. 
John prides himself on being one of the genuine Criminal Trial advocates currently practicing in the New South Wales Court system and is renowned for his fearless pursuit of his clients' interests.