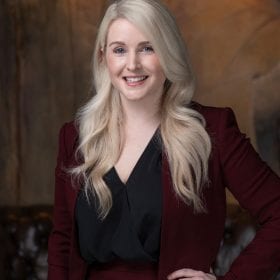 Jorja has undergraduate degrees in Law and Arts (majoring in history) and graduated from Murdoch University in 2008.
She commenced articles of clerkship at Carr & Co in February 2008 and was admitted to practice in the Supreme Court of Western Australia in April 2009.
She was admitted to practice in the High Court in July 2011.
Jorja has appeared as instructing solicitor and junior counsel with many Perth barristers in cases both in the Family Court of Western Australia and in the Full Court of the Family Court Australia, a number of which, are now reported cases.
In 2012 Jorja appeared as junior counsel to Hon. Peter Dowding SC in:
successful appeal to the High Court of Australia involving property settlement and issues of constitutional interpretation.
a successful application made pursuant to the Bankruptcy Act 1966 (Cth) to set aside an insolvency notice, which had been cross-vested from the Federal Court of Australia to the Family Court reported as Beaman and Bond [2014] FCWA 21.
She was nominated for the Family Law Practitioners' Association Young Lawyer of the Year award in 2014.
She successfully completed a Master of Applied Law (Family Law) and obtained an LL.M (Master of Laws) through the College of Law Australia in 2014.
Jorja was named as one of the leading family and divorce lawyers, and recommended in the high-value and complex property matters category for family lawyers – Western Australia, 2017 & 2018 by Doyle's Guide.
She specialises in complicated financial and parenting matters in the Family Court. She has a particular interest in financial cases which involve complex trust and corporate structures and taxation and accounting issues.