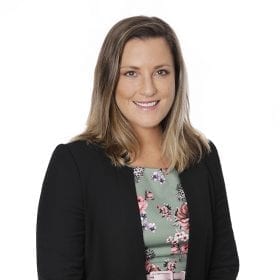 Juliet is an Associate Lawyer with Slater and Gordon QLD with more than 10 years' experience in litigation law. Currently she is supporting local residents in Bundaberg, Maryborough, Hervey Bay and Gympie with informed legal advice.
Juliet works tirelessly to defend the legal rights of everyday Australians who have suffered a life changing experience. "I gain immense satisfaction from knowing my knowledge and experience helps my clients transition to a better tomorrow."
Juliet graduated from Griffith University in 2007 with a degree in both Commerce and Law and was admitted to the Supreme Court in Queensland and the High Court of Australia in 2009. During her studies Juliet was fortunate to have the opportunity to attend the National Academy of Legal Studies and Research (NALSAR) in Hyperabad, India. "My time in India reinforced my desire to help people understand their legal entitlements and have the opportunity for professional legal representation."
Juliet began her legal career in Bundaberg where she was initially employed within a mixed practice law firm. "In 2012 I transitioned to a legal role within an Australian Compensation law firm where I honed my skills as a litigation lawyer."
"For most of my life I have lived and worked in the Bundaberg and Wide Bay region. During this time, I have established a broad network of business and legal contacts. When I work with you on your legal matter, you have access to my own extensive legal knowledge and local network, as well as the substantial resources and legal expertise of a large national law firm."
"When we have our initial meeting, I take the time to listen and understand your unique circumstances. I work hard to help you understand often complex legalisation, case law and legal processes. I will outline your options and help find the best path to delivering the outcome you desire."
"Helping other people who cannot help themselves gives me immense satisfaction. Contact me now so we can work on an effective resolution for your legal matter."