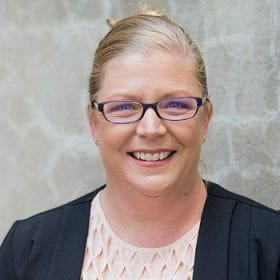 From Grade 4, I decided on a career in law. Of course, at that time, I had no idea what that might entail, but neither did I deviate from it, graduating from Miami High School in 1994 and beginning law at Bond University the following year
I was lucky to gain valuable experience in the property area while I was studying for my degree: experience that I am still able to utilise to this day to help my clients. What I realised during that period was that the property arena was not where my long term career would lead me.
Like many law students, I was convinced that unless I was offered a job at a national firm, I would not be successful in the law. During my first few days at such a firm, I realised my mistake. What I really wanted to do was help "real" people with "real" problems. So, after a very short time, I was very fortunate to find my niche in a position exclusively in family law and, after having been admitted as a Solicitor in 2003, I have never looked back.
Whilst my colleague, Dan, the "B" in BGM Family Lawyers, has built a well deserved reputation for complex financial matters and Orlena, the "M" in the Firm, is drawn to and excels at complex parenting matters, I like to believe that I have carved myself a "middle ground", acting for clients whose matters usually involve a mix of both issues.
I am defined by my family and my work. Having children of my own (now aged 4 and 7) has definitely impacted on the way I practise law. I can empathise with the emotions parents are feeling at a highly charged time in their lives. I see my role as assisting my clients to identify and analyse options, and making the best decisions for their family at every stage of the family law process.
While it is my preference for my clients to avoid the cost, expense and risk associated with Court proceedings by using Alternate Dispute Resolution procedures, if there is no other option, then I put on my "other hat" as litigator to support and advocate for my clients through the litigation process. In the litigation process, I still ensure that I do not let an opportunity to resolve the matter go past and I remain focused on the cost benefits of all the options available to my clients.
I received specialist accreditation from the Queensland Law Society in 2009. I am a member of the Gold Coast District Law Association and the Family Law Practitioners Association.
I am qualified as a Collaborative Lawyer and am always happy to discuss this process with any existing or prospective clients to decide if collaborative law is a process which might be suitable for their circumstances.  I hold membership of Queensland Collaborative Law, and participate in the Gold Coast Collaborative Law Group.
I am a regular volunteer adviser at the Robina Community Legal Centre, which is conducted each Thursday evening.
Legal qualifications
Solicitor, Supreme Court of Queensland

Solicitor, High Court of Australia

Queensland Law Society Accredited Specialist - Family Law

Collaborative Law Training
Education
Bachelor of Laws (Honours), Bond University
Professional organisations
Member, Queensland Law Society

Member, Family Law Practitioners Association of Queensland

Member, Law Council of Australia - Family Law Section

Member, Gold Coast District Law Association

Member, Queensland Collaborative Law

Member, Gold Coast Collaborative Law Group