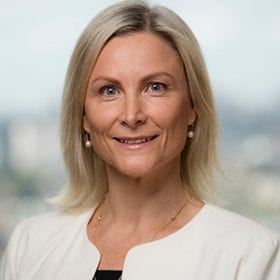 In 2000, Kate became an Accredited Specialist in Personal Injury Law certified by the Law Society of NSW. She currently specialises in large and complex personal injury claims with considerable experience handling medical negligence claims against health care providers including public hospitals, private hospitals and medical practitioners. Kate has a particular interest in birth injury claims & has acted for a number of children suffering cerebral palsy as a result of adverse birth events.
Kate has successfully acted on behalf of many clients suffering catastrophic injuries due to negligence including brain damage, cerebral palsy, paraplegia, quadriplegia and amputated limbs. Kate is an extremely passionate lawyer who is driven to achieve the best possible results for her injured clients. She feels privileged to act for such deserving clients & is constantly inspired by the strength of character displayed by her clients in the face of adversity & significant disability.
Kate has a strong sporting background and has previously represented Australia in springboard and platform diving.