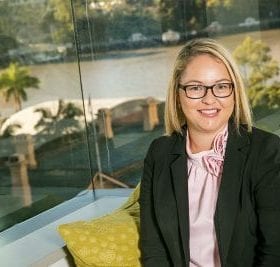 Katie is a Senior Associate of the firm who specialises in estate litigation, estate planning and estate administration. Katie holds a Bachelor of Law / Business through the Queensland University of Technology, and was admitted to practice law in 2008.
Katie has been involved in a number of complex estate disputes where she has acted in a range of proceedings relating to Family Provision Applications, challenging the validity of wills and, trust disputes and powers of attorney. Katie also has experience in administration of large and complex estates.
Katie's in depth understanding of estate litigation as well as her ability to understand diverse and complex scenarios are of real benefit to her clients. Katie brings to her clients a practical and cooperative approach and a focus on quality which is combined with more than eight years experience as a lawyer.
Prior to joining de Groots, Katie spent five years with a small Brisbane law firm, specialising in the areas of Succession law, family law and commercial law.