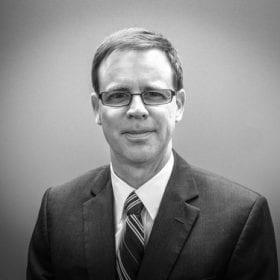 Kevin Robinson has a reputation for helping clients navigate their way through the family law process with a focus on preserving people's dignity and their children's welfare. Kevin has been recognised as a Leading Family & Divorce Lawyer in the Australian Capital Territory for 2018 in the prestigious Doyle's Guide. Prior to founding Robinson + McGuinness, Kevin practised in all areas of family law in Canberra as well as in Guardianship and Care and Protection matters.
Kevin acquired extensive skills in mediation and substitute decision making over a 15 year period with the NSW Protective Commissioner prior to practising exclusively in family law. As Acting Deputy Protection Commissioner, Kevin was responsible for managing the financial and legal affairs of approximately 8,500 people with decision making disabilities.
Kevin has a keen interest in facilitating positive outcomes for children and to assist clients in achieving early resolution of their matters wherever possible. He combines empathy with a pragmatic and problem solving approach. Kevin is on the panel maintained by Legal Aid ACT to provide representation to children in proceedings in the Family Court or Federal Circuit Court when such a request is made by the Presiding Judicial Officer.
Kevin is a member of the ACT Law Society Family Law Committee; a member of the Canberra Region Family Law Professionals Association; a member of the Family Law Section of the Law Council of Australia; a member of the Independent Children's Lawyer Panel – ACT Legal Aid; an Accredited Collaborative Law Practitioner; and an Accredited Family Law Arbitrator.