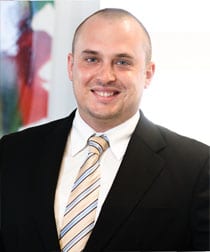 Since his admission in 2007, Konrad has experience dealing with business and taxation matters as both an ATO litigator and a practicing solicitor.
Konrad's experience working as a litigator in the ATO has enabled him to provide invaluable insight and advice to his commercial clients to assist them in protecting against ATO actions: including tax audits, objecting to ATO decisions, taking tax matters to the Courts and Tribunal, and negotiating settlements.
Konrad graduated with honours in 2006 after which he worked in the estate planning industry focussing on high net worth individuals.
In 2008 Konrad joined the Australian Taxation Office gaining experience in audits and the ATO's Tax Counsel Network before settling into a role as an ATO litigator.
Konrad has a detailed and forensic approach to his clients' matters which is critical when fighting the ATO. He also is adept at explaining the ATO's processes to new clients who have (fortunately) not had much experience with the ATO. Konrad is able to draw upon his broad tax and litigation experience when advising clients in structuring commercial matters and disputes.