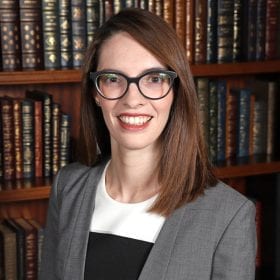 Lara grew up and was educated in Adelaide.
She graduated with an Honours Degree in Law and a Bachelor of Languages (in Italian and Spanish) Degree from the University of Adelaide in 2013.
She was very fortunate to have the opportunity during her tertiary studies to study abroad in Italy at the University of Bologna and at the University of Molise. She is fluent in the Italian language.
Never one to do things by halves and given a passion for Family Law, Lara also completed her studies to obtain a Masters Degree of Applied Laws in Family Law in 2018. She reads widely on the topic of Family Law and she looks to continuously build her knowledge and experience.
With the work experience that she did prior to her admission to the Bar and the fact that she has practised almost exclusively in Family Law, she has more experience than most for her time in practice.
Her approach to all clients and all matters is a holistic one. She is well versed in litigation and negotiation.
As one of those people who is super energetic, she has always believed that giving back to the community is very important. Lara is highly involved with the Italian community in South Australia and is a former ambassador of the World Council for Molisani (Region) in Italy Youth and she has received numerous awards for her community service including a nomination for the Pride of Australia Medal and a Certificate of Merit from the Order of Australia for Service to the Community.
She is confident and calm in her approach and will guide clients through the litigation process in Court if their matter cannot be resolved by negotiation.
Lara is a member of the Law Society of South Australia, the Women's Lawyer's Association and the Family Law Section of the Law Council of Australia.