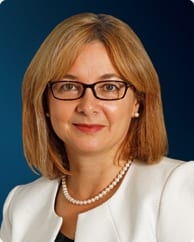 Lee has over 30 years' specialist experience in family and de facto relationship law disputes. She has particular expertise in complex property and children's disputes and has worked as an Independent Children's Lawyer, promoting the interests of children in highly charged parenting disputes.  Lee's background and experience has given her a strong understanding of the myriad issues pertaining to family law disputes.
Lee is an Accredited Family Law specialist and is recognised in the 2017-2019 editions of Doyle's Guide as as Leading Family & Divorce Lawyer. She has written and delivered papers on many areas of family law, and is a regular lecturer and presenter.
Lee was invited by the 2015 Royal Commission into Family Violence to provide evidence of her experiences and observations of conducting cases in the Family Court for clients and their children who have been affected by family violence in the past, or who remain at risk of family violence. This included, among other things, giving her views on whether the Court processes and culture adequately protect and support these clients and their children, while holding those who have been violent accountable for their actions.
Lee's areas of expertise include:
property settlements and commercial advice;
all children's issues including residence and contact;
spousal maintenance;
child support;
injunctions and restraining orders;
divorce;
cohabitation, pre-nuptial agreements and post nuptial agreements;
taxation implications of separations and settlements; and
estate planning after separation.
Lee joined Lander & Rogers in April 2016 and was admitted to practice in 1986