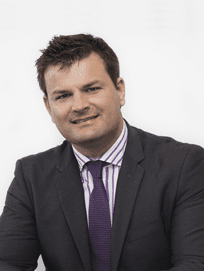 Luke commenced his legal career at the Firm in 2004 and made Partner in 2011.
Luke grew up on the Gold Coast attending All Saints Anglican School before completing his undergraduate degrees in Bachelor of Economics and Bachelor of Laws at the Queensland University of Technology.  Luke remains connected with and supportive of both these educational institutions including providing mentoring and career guidance to current students and graduates.  Luke also supports the local Gold Coast legal community, particularly those practising in family law, where he presents at conferences and attends events.
In 2011 Luke won the Highest Achiever Award from the Chief Justice for the Family Law Accredited Specialist program.
Legal benchmarking organisation Doyle's Guide has recently awarded Luke the highest possible ranking as a 'Preeminent Lawyer' in their Leading Family and Divorce Lawyers Gold Coast 2019  Luke has been recognised by Doyle's in the preceding years of 2018 2017 2016 .  For the first time in 2019 Doyle's Guide recognised those lawyers who not only hold expertise generally in family law matters but also for their ability and track record in matters where the contested net asset pool is significant or there are complex commercial, property, estate planning and taxation matters that need to be taken in to account as part of the overall resolution process and otherwise have particular expertise in preparing Binding Financial Agreements for individuals and families with significant net worth.  Luke was only one of a limited number of Gold Coast lawyers to be recognised in this High Value and Complex Property Matters category.
Luke's  credentials are also evidenced by the fact that a vast majority of his work comes from former clients who have commended him to their family, friends and colleagues who find themselves in need of a family lawyer.
Luke is a solution focused practitioner and although he is well recognised as among the best family law litigators in the region, he strongly believes the best solution for clients lies in being able to reach agreement out of Court.  Luke is always available to his clients and ensures that they are kept up to date throughout the course of their matter and he takes the time to explain to his clients the processes and what to expect.  Luke is known by his clients as a frank and honest lawyer who is always looking out for their interests.