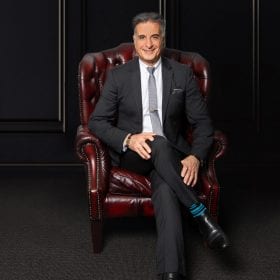 With over 37 years' experience, Manny Conditsis is the Director of Conditsis Lawyers - a full service law firm located on the Central Coast of NSW.
Manny is a Senior Trial Advocate and Accredited Specialist Criminal Law. He is likely the only Solicitor Advocate in the country who has appeared as advocate in four murder trials and who appears in the Court of Criminal Appeal and the High Court.
Manny is highly respected by his peers, the bench and has also appeared in numerous high-profile cases including the murder trial of Dean Waters.  
Manny has been a member of the NSW Law Society Criminal Law Committee and is driven by many examples of injustices in the criminal justice system, to passionately advocate for the retention of our rights and to rally against the existence of, and any proposed, unjust laws.
Manny is also sought after by the media for commentary in news breaking legal stories and events including ABC Radio, ABC Radio National, ABC News Tonight, 7.30, Four Corners, Channels 7, 9 [Current Affairs and 60 Minutes] and 10 [The Project] and SBS.
As an Accredited Specialist in Criminal Law Manny recently sat on that committee which set and marked exam papers for lawyers aspiring to become specialists. Manny, also regularly contributes to lawyers' legal knowledge by presenting papers and lecturing at education events and seminars, including at Brother and Sisters in Law annual conference, TV Education Network at Armidale and for the NSW Law Society. Manny has an enviable success rate in judge and jury trials.
Testimonials 
"I chose Conditsis Lawyers to represent me after I found myself accused and charged with allegations and offences I had not committed. For 3 years, Conditsis represented me and maintained outstanding correspondence with me. Everything was always explained in detail, they were very thorough with my defence, compassionate, supportive, understanding and extremely professional. Mr Conditsis, Alex and the whole team are very intelligent, switched on and thorough people. After finally making it to trial, I was found not guilty on all charges because for one, I was not guilty and two, the outstanding, dedicated, hard work and long hours Mr Conditsis and his team put in. They are a very passionate, dedicated and professional team and I highly recommend their services if you find yourself in a spot of bother." Craig Thomas
"During a difficult time we were able to get great advice and feel supported in the process. They were always available to provide information and return calls no matter what time it was. Would absolutely recommend their services. Never felt like a number and no question was unanswered. Was extremely happy with all levels of service." Caterina Kidd
"Excellent legal team with great and fair results Manny and Jamie did a great job" Ross
Recent Press 
Damian Seaman: Driving charges dropped over death of Cade Shiells and Kevin Stokes
Brian Hilton cleared of assaulting his ex-wife
Street racing charges dropped against Ahshanul Fakhru after friends died in crash
Man Accused of 2012 murder seeks bail
Name and shame posts could complicate a possible future trial, lawyers warn
Sydney boys home pedophile ring arrest
City
Regional New South Wales