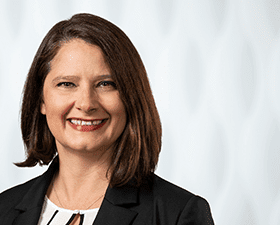 Megan is a highly respected specialist planning, environment and local government lawyer with over 26 years' specialist experience. Megan joined Lindsay Taylor Lawyers shortly after its inception after working in two of Australia's top tier law firms, including as a partner.
Megan has expertise in all aspects of planning and development law, primarily advising state and local government. She has particular expertise in negotiating and drafting planning agreements. Megan also advises on the Environmental Planning and Assessment Act 1979 and other planning and environmental legislation and has expertise in coastal land management.
Megan has acted for many local councils in property matters involving dealings with public land under the Local Government Act 1993 and has expertise in the Crown Lands Management Act 2016, native title and Aboriginal land rights legislation.
Megan has been acting for local government for over 20 years and advises on all aspects of the Local Government Act 1993, including governance and probity issues.
Megan has extensive experience appearing as solicitor advocate in the Land & Environment Court. Megan has an impressive record for achieving her clients' desired outcomes and has appeared in some of the landmark cases decided by the court.
Megan was admitted to practice as a Solicitor in the Supreme Court of NSW in 1991 and is an Accredited Specialist in Local Government & Planning Law as regulated by the Law Society of NSW's specialist accreditation board.