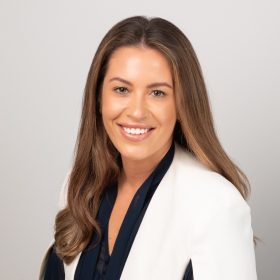 Melissa has practiced exclusively in commercial litigation and building and construction disputes on the Gold Coast since 2009. During her extensive litigation career, Melissa has been instrumental in achieving remarkable outcomes for her clients in complex property matters, business and partnership disputes, building and construction litigation and body corporate and community management disputes. Melissa's breadth of experience has assisted in the commercial and effective resolution of minor debt disputes through to multimillion dollar Supreme Court litigation, including the enforcement of judgments after complex and successful hearings.
Melissa is a born and bred Gold Coaster, having graduated from Bond University with Honours, she has developed strong professional ties and is very much a part of the Gold Coast business community. Melissa attended the College of Law in Brisbane, is an admitted solicitor of the Supreme Court of Queensland and the High Court of Australia. She has solely worked in highly specialised commercial litigation practices in Queensland, delivering no-nonsense advice to her clients, with a view to achieving a commercial outcome regardless of the complexity of the matter. In doing so, Melissa recognises the importance of a client's involvement throughout the litigation and ensuring that the client's objectives are advanced at every stage of the process.
COMMUNITY INVOLVEMENT
Between 2011 and 2018, Melissa held the position of Vice President (formerly Secretary) of Young Professionals Gold Coast, a not-for-profit organisation proactively changing the city's corporate culture and fostering career development for talented young professionals. In that role, Melissa was instrumental in the engagement of the City's young talent, working with professionals across the Gold Coast to achieve outcomes for the city.
Melissa has also previously held roles on the Queensland Law Society's Early Career Lawyers sub-committee and has made numerous contributions to the monthly QLS 'Proctor' publication. Melissa has also held a committee position with the Gold Coast chapter of Women of Influence.
Recent matter involvement
Acted for an individual client and owner of a large rural residential property in a dispute concerning the proposed joint venture development of land, including complex issues arising between the parties over trusts, loan accounts and the dissolution of the relationship between the parties. This resulted in a successful outcome after a trial of the dispute in the Supreme Court of Queensland, including a significant award for costs.
Acted for a large national construction company in a dispute with a subcontractor in breach of material terms for the failure to supply goods in accordance with the subcontract. Melissa was required to negotiate with the subcontractor and international suppliers of the materials, resulting in a well-considered claim for liquidated damages against the subcontractor, whilst ensuring that the client was able to secure supply of materials to site, significantly minimising the risk to the client of liquidated damages under the head contract and enabling completion of the project by practical completion.
Acted for two minor children in successfully securing provision (at an early stage, during mediation and before any Court hearings) from their deceased father's estate in circumstances where they were inadequately provided for under the will.
Acted for an individual Applicant in the Supreme Court seeking urgent relief for the removal of a caveat that had been lodged by a large, multi-million dollar construction company and successfully recovering costs on an indemnity basis.
Acted for a registered Migration Agent in a successful application to overturn the decision of the Department of Home Affairs to cancel or suspend his migration agent's licence in the Administrative Appeals Tribunal, including a subsequent appeal of the decision of the AAT in the Federal Court of Australia.
Acted for Plaintiffs in large Supreme Court matter for professional negligence against an accountancy and tax advisory firm.
Acted for a national steel supplier on a large Government infrastructure project in New South Wales, successfully negotiating an increase in price under the subcontract enabling the client to make the contract a profitable engagement.
Acted for partners of a medical practice in the dissolution of a partnership in Supreme Court of Queensland proceedings which were successfully mediated, resulting in a commercial and practical outcome for the partners.
Acted for one of the most well-known international social media influencers in urgent defamation action against a former de-facto partner who had published extremely damaging and false content concerning the influencer's business interests and personal reputation, successfully securing undertakings and the removal of defamatory content from all social media and online platforms.
Acted for a unit owner in a boutique luxury community titles scheme at Hamilton Island, in a dispute pertaining to unauthorised works on common property and various breaches of applicable Body Corporate legislation.
Acted for a defendant franchisor in District Court proceedings filed by a franchisee relating to the use of advertising and marketing funds.
Acted for a national finance factoring client in relation to an insolvent customer and successfully secured urgent freezing orders from the Supreme Court of Queensland over plant and equipment that had been transferred to related companies and secured the guarantor's assets, resulting in a significant net return to the client.
Qualifications and Memberships
Bachelor of Laws (Hons)
Graduate Diploma of Legal Practice
Solicitor of the Supreme Court of Queensland
Solicitor of the High Court of Australia
Member of the Queensland Law Society