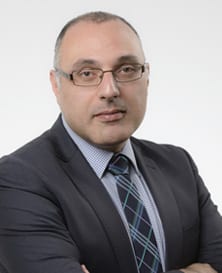 Nabil Wahhab is an Accredited Specialist in Family Law.
Nabil has practised exclusively in Family Law for nearly 25 years. A graduate of Macquarie University with an Honours degree in Law and Economics (majoring in Finance), Nabil's expertise is in advising and representing clients on complex financial matters involving trusts and companies.
Nabil has an impressive track record of representing the interests of a wide range of high net worth individuals as well as third parties in complex property settlements involving Trusts, Blind Trusts, Companies, Partnerships and other structures.
Nabil has acted in some of the largest cases determined by the Family Court, including the first superannuation splitting case to be determined by the Family Court; the first de facto case to be determined by the Family Court. He has also acted for the wife in the largest lump sum spouse maintenance award made by the Family Court.
Nabil has published over the years on family law topics in variety of publications including Money Management, Lawyers Weekly and others.  He has been featured in articles in the Sydney Morning Herald and other publications. He has been a speaker on family law topics to accountants, financial advisers and lawyers.
Nabil has been an author for CCH Australia for the past 8 years on the topic of Financial and Estate Planning on Family Breakdown in the textbook published by CCH Australia titled "Australian Master Financial Planning Guide".
Nabil is one of the Preeminent and Leading Family Law Specialists in Sydney.
Nabil strives to be the best family law lawyer in Australia.