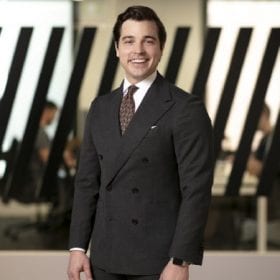 Nathan is an experienced top tier trained infrastructure, major resources and energy projects lawyer with extensive experience across all stages of the major project lifecycle.
Nathan's experience spans construction, energy and infrastructure sectors, where he has delivered commercial advisory, contract negotiation, drafting, and conducted complex dispute resolution (arbitration and litigation).
From his experience in closely engaging with clients as part of their day-to-day business operations and interacting with senior management to prepare all forms of project documents (construction, EPC, services agreements, interface contracts) and implementation of legal advice, Nathan is skilled in conceptualising complex legal and commercial issues and collaborating at both team and management stakeholder levels to obtain commercial/legal input on a time-critical basis and deliver a useful legal solution tailored to individual client needs.
Nathan's extensive experience in major projects has also allowed him to assist project teams in delivering best-for-project outcomes during the term of the project, and through project close-out –he has provided project and contract advice to, and acted on behalf of, major international corporations, multinational joint venturers, major national contractors, and state government departments in complex high value disputes (on behalf of both principal and contractors alike), with an emphasis on energy and resources, as well as major construction and infrastructure project owners.
As a former judge's associate and having conducted litigation in many courts, Nathan also offers a depth of experience across general commercial dispute resolution and litigation which complements his construction law specialism.
Having had the opportunity to work with clients of varying levels of sophistication and size over many years, Nathan appreciates the value of communicating advice to clients in an form immediately capable of practical use – which means extending beyond traditional long-form legal advices into other, more practically useful documents and 'ready to use' outputs of the advice. He also regularly assists clients to draft documentation, reports and correspondence for internal use, including reports to executives, which succinctly convey the practice consequences or outcome of legal issues and legal advice.
Nathan has a keen interest and involvement in the development to public and industry policy – particularly in the energy and public infrastructure sectors. He is a current member of the Construction and Infrastructure Law Committee at the Queensland Law Society