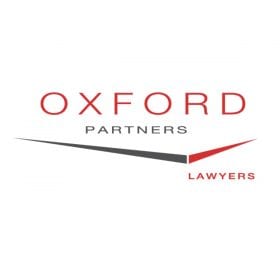 Oxford Partners Lawyers is a progressive Melbourne law firm, based upon traditional values, offering sound advice and effective strategies to obtain the best possible outcomes in all areas of general law including:
Family Law
The breakdown of a relationship or marriage is certainly a very traumatic and stressful time in a person's life. It not only affects the husband, wife and partners, it affects the whole family. Family Law disputes can also encompass those associated with de facto relationships, which may include property/financial disputes, binding financial agreements, children's matters and which parent they live with or spend time with, child support issues, spousal maintenance, adoption and all associated issues that arise as a consequence of the breakdown of a marriage or de facto relationship.
Our Family Law team provides practical, sensible advice which focuses on our clients' specific needs and requirements. We always aim for timely and cost effective resolutions to minimise the emotional and financial toll these disputes can have on our clients.
Intervention Orders

We act for clients in matters relating to Family Violence and Personal Safety Intervention Orders for both the Applicants and Respondents, including Interim and Final Orders.
Criminal Law
Our Lawyers can represent clients in relation to a range of Criminal Law issues, both summary and indictable offences, including driving/motor traffic offences, drug related matters, sexual offences, assaults, breach of Intervention Orders, theft, property offences, property damage, proceeds of crime and more serious matters, including serious assaults, affray and murder/manslaughter.
We can appear in the Magistrates Court, County Court, Supreme Court, Court of Appeal and Children's Court, to provide a complete service for all of your legal needs, including bail applications.
We also offer 24 hour call service for those who are charged with criminal offences through the night and weekends.
Litigation

We have extensive experience in all types of Litigation, spanning a range of jurisdictions. Accordingly, we can represent you in the Federal Court, Supreme Court, County Court, Magistrates Courts and VCAT (and other tribunals).
We strive to obtain the best possible results for our clients in a commercial and cost effective manner.
Wills and Probate
When making a Will, it is important that it represents your wishes and is worded accordingly.
Our Lawyers understand the importance of making a Will, so that it represents your wishes, ensuring peace of mind.
Commercial Law
We are able to assist you with your commercial matters including leases, sale or purchase of businesses, contracts, commercial agreements and other related commercial matters.
Debt Recovery & Insolvency
Having money owed to you can be a frustrating experience. We aim to provide a cost effective and commercial solution for our clients. We will fight for your cause and make every endeavour to recover monies owed to you.  Our insolvency experience, especially corporate insolvency, including winding up applications, means that we are able to provide a complete and comprehensive solution to all of your debt recovery and insolvency needs.
At Oxford Partners Lawyers our practitioners and staff pride themselves on providing an outstanding service to our clients. Our lawyers, take the time necessary to fully understand your legal position and to provide clear advice and strong representation for all legal matters.
We also do all that can be done to ensure that the legal process, which can be complex and daunting at times, remains as simple and accessible as possible.