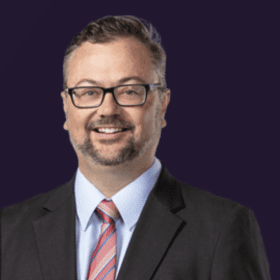 Robbie specialises in advising and representing employers and insurers in workers compensation matters. His clients include a broad range of small and large employers, scheme agent insurers, government agencies, self insurers and specialised insurers. Robbie takes a pragmatic approach to each claim ensuring that his clients are properly apprised of their options and the risks and benefits in each matter.
Prior to working as a lawyer in private practice Robbie worked as a technical advisor for a workers compensation insurer. His time working with an insurer provided Robbie with a first hand understanding of the demands, and operational challenges, that insurers confront when managing claims in the statutory scheme.
Robbie represents his clients in the Workers Compensation Commission and has successfully argued appeals to the Supreme Court of NSW for judicial review, and appeals to a Presidential member of the Workers Compensation Commission.
He enjoys providing seminars and preparing papers addressing the frequently changing statutory framework in which the workers compensation jurisdiction operates.   
Qualifications/Memberships
Bachelor of Arts/ Bachelor of Laws, Australian National University

Graduate Diploma of Legal Practice, ANU College of Law

Member - NSW Law Society 
What Robbie's clients say
"Wesfarmers has worked with Robbie across our various divisions for a number of years across our workers' compensation claims portfolios.  Over this time Robbie has achieved and continues to build a trusted foundation in getting to know and understand our safety and injury management care and DNA.  With every claim he displays compassion, expert technical knowledge in legislation and claims management and pragmatism.  Robbie's work also extends beyond the claim in proactively sharing the latest information and industry updates for constant improvement, learnings and value" Jo Robinson-Smith, Senior Group Insurance Adviser, Wesfarmers.
A word from Robbie
The workers compensation jurisdiction is a complex world – and I genuinely enjoy using my experience and knowledge of the legal landscape to help my clients navigate and resolve disputes in the most effective way available. I believe in partnering with my clients and being there to solve problems – I get great satisfaction when a client calls to run an issue by me and I add value to their decision making process.
Career highlights
Successfully applying to the NSW Supreme Court for judicial review of a decision by the Workers Compensation Commission. The successful application resulted in the claim for impairment being assessed below the threshold for compensation for impairment benefits and damages.

Presenting at the national WHS summit of a large not-for-profit organisation on action to be undertaken by managers to mitigate the risks of psychological injury claims.

Successfully arguing in the Workers Compensation Commission that there was insufficient evidence for a finding of consequential injury to the left shoulder and neck, resulting from a fracture to the left wrist.

Successfully arguing in the Workers Compensation Commission that proposed lower back surgery was not reasonably necessary treatment in respect of the injury, based on the radiological evidence being misinterpreted by the doctors proposing surgery.

Successfully arguing that a contractor engaged by an administrator to operate a take away food business was not a 'worker' employed by the administrator or the business under administration.
Specific areas of focus
Advising stakeholders in workers compensation matters of the most effective means of addressing liability and future management of claims.

Defending claims for compensation in the Workers Compensation Commission and advising on and preparing appeals from decisions of the Commission.

Assisting employers with strategic management of risks associated with workers compensation claims and implementation of policies and procedures aimed at reducing frequency of claims and potential claims costs (e.g. compliance management, disciplinary procedure review).

Engaging and instructing investigators and independent medical examiners to address specific liability issues.