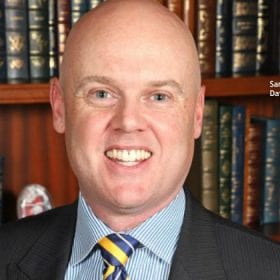 Samuel Burrell grew up in Adelaide and was admitted to practise in Adelaide in 1998, having completed his Law Degree in Darwin.
Following his admission to practise, he worked for some months under the tutelage of Vickie Chapman (now the South Australian Attorney General) in her then specialised Family Law practice.
In many ways Sam's experience in Family Law is unique, having always practised exclusively in the Family Law area and the vast majority of his experience has been in cases involving Family Law property disputes.
After a year of extensive travel around America and Europe, he worked for a period of time as a para-legal in London involved in a major superannuation fraud case.
When he returned to Australia, he moved interstate and since then has practised only in Family Law, initially in a boutique firm and then until the end of 2006, in the prestigious Family Law department at Middletons Lawyers in Melbourne.
His practice in Melbourne related to all financial aspects of Family Law cases. He has always been interested in the tactics of negotiation and litigation and whilst practising in Melbourne, had a broad range of experience in financial matters to do with property settlement, spousal maintenance and child support issues.
Melbourne also gave him the opportunity to work with and against some of the most experienced Family Law Solicitors in Australia involving a substantial number of big money matters where Senior Counsel were briefed on both sides. He prides himself on his ability to read and understand complex company, trust, partnership and superannuation financial statements and structures and to ferret out hidden assets and income. He has an interest in constructive trust issues and third party claims. He also has much experience representing not only high net worth individuals but CEO's, managing directors, medical practitioners, lawyers and accountants or their spouses. He is very experienced in briefing Barristers for trials and has been involved in substantial interim and final hearings in the Family Court. He takes the time and trouble to prepare the best possible written presentations for round table conferences, whether conducted informally or under the auspices of the Court and in putting together a brief for Counsel. He chooses to argue many of his own interim hearings in Court himself.
He takes a broad ranging approach to the preparation and conduct of matters, giving particular thought and his expertise to valuation issues, tactical decisions and presentation issues. He has particularly good knowledge and experience in the negotiation and preparation of Living Together and Pre-Nuptial Agreements. He is unflappable in a crisis and prepared to go the extra yards and put in the extra hours where necessary, to conduct a client's case at the highest level.
He is a member of the Law Society of South Australia and the Family Law Section of the Law Council of Australia. He is a regular attendee at conferences and seminars, both nationally and in Adelaide.
In 2007 Sam became one of the small number of practitioners in Adelaide to be entitled to be designated as an Accredited Specialist in Family Law after completing the inaugural Law Society of South Australia Specialist Accreditation course.
Sam was recognised by Doyle's Guide in 2018 as a Leading Family Lawyer in South Australia and Recommended in relation to Complex and High Value Family Law Matters.