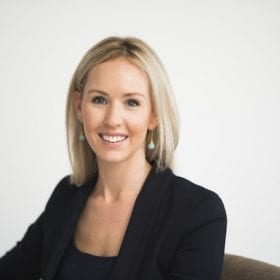 Siobhan is a bestselling author and is a collaboratively trained and award winning divorce lawyer. Siobhan is also the founder of Australia's leading online family law firm, Separate Together.
Launched in May 2017, Separate Together specialises in DIY divorce and separation, breaking down the process of what needs to happen to make the separation official, including any separation agreements. 
The firm has been named a Leading Innovative Firm by Australasian Lawyer (2019) for its integration of technology (document automation and previous AI), its plain English handbooks, instructions and unique approach to the practice of family law. 
Siobhan's goal is to have relationship breakdown no longer identified as one of life's top seven stressful events, by changing the way that people can experience the legal separation and divorce process.
Clients who have worked with Siobhan or have used Separate Together's services describe the experience as "easy", "less stressful" and "simple". 
Core Values
To lead
Build relationships
Make a difference
Separate Together donates a portion of its revenue to B1G1 (which stands for Buy 1 Give 1), being a social enterprise not-for-profit organisation, which develops projects in line with the UN's 17 Global Sustainable Development Goals. 
Recognition
2019 Australasian Lawyer Special Report – Leading Innovative Firm
2019 Lawyers Weekly 30 Under 30 – Family Law Winner
2019 Lawyers Weekly – NewLaw Firm of the Year Finalist
2019 Lawyers Weekly – Sole Practitioner of the Year Finalist
2018 Business News Australia – Young Entrepreneur of Australia Finalist
2018 Lawyers Weekly Women in Law – Sole Practitioner of the Year Finalist
2018 Lawyers Weekly Australian Law Awards – Sole Practitioner of the Year Finalist
2018 Canberra Women in Business – Business Innovator Finalist
2018 ACT Women Lawyers Award – Woman Lawyer of the Year (Private) Nominee
2018 ACT Women Lawyers Award – Firm/Organisation of the Year Nominee
2017 Lawyers Weekly Australian Law Awards – Innovator of the Year Finalist
2017 Lawyers Weekly Legal Website Awards – Design Award Finalist
Siobhan's best selling book, Splitting Up Together: The How-to for an AMICABLE Divorce is available on Amazon in Kindle and hardcopy. 
"This handbook will answer more questions than it raises and is the starting place for someone who is contemplating separating or who is anywhere along the divorce journey" (Julian Millar, Barrister)