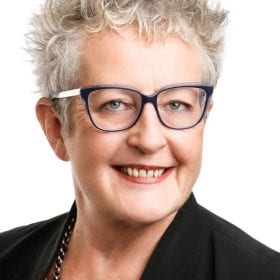 Sue Abrams was admitted as a Solicitor to the Supreme Court of New South Wales and the High Court of Australia in 1982 after completing her BA LLB at Macquarie University. Sue was initially employed as a Solicitor with McDonell Moffitt Dowling Tayler where she developed a broad base of experience in a cross-section of areas, including Family Law, Conveyancing and Estate matters.
In 1986 Sue became an Associate Partner of McDonell Moffitt Dowling Tayler. In February 1989 Sue established the firm Abrams & Associates and remained the sole principal of that firm until 30 June 2008, when Abrams & Associates merged with Turner Whelan to become Abrams Turner Whelan Family Lawyers.
Sue has practised extensively in Family Law throughout her career, but also has considerable experience in other areas of law, including Wills and Probate, Conveyancing and General Law. Sue became an Accredited Specialist in Family Law in 1994 and since 1995 Sue has practised exclusively in Family Law.
Sue has also been trained as a Mediator at Bond University and in 2007 Sue completed the basic and advanced training in Collaborative Law. Sue is a member of the New South Wales Law Society and the Family Law Section of the Law Council of Australia.  She is an Associate of the Australian Institute of Family Law Arbitrators and Mediators, a member of Collaborative Practice (NSW), a founding member and current Co-President of the Central Sydney Collaborative Forum and a member of the International Academy of Collaborative Professionals.
Sue's many years of experience as a Specialist Family Lawyer have equipped her with a wealth of knowledge and understanding of the whole range of Family Law issues. Sue has particular expertise and experience in complex Family Law property matters involving Trusts, Companies, Share Option Plans, Superannuation and Pensions.
Sue is also highly skilled at achieving negotiated outcomes for clients and has conducted a number of successful Collaborative Law and mediated matters. Sue has also presented various papers to the prof