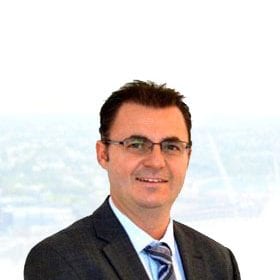 Tony has been practising insurance litigation, acting for insurers, claims managers and defendants since his admission in 1999.
Tony has handled claims in the Local, District, Supreme and Federal Courts, the New South Wales Court of Appeal, the High Court of Australia, NCAT, Industrial Relations Commission and Chief Industrial Magistrates Court.
Tony has considerable experience in alternative dispute resolution mechanisms such as settlement conferences, mediations and arbitrations and is highly regarded as a skilled negotiator.
Tony's areas of practice include:
General Insurance Law
Products and Public Liability Claims
Property Damage and Pure Economic Loss Claims
Professional Indemnity Claims
Building and Construction matters
Personal Injury Claims
Occupational Health and Safety including the defence of WorkCover prosecutions
Tony was recently recognised by Doyle's Guide 2018 in the area of Leading Public and Products Liability Lawyers (Defendant) –New South Wales. He is the preferred legal advisor with respect to civil liability claims to a number of claims managers and leading Australian corporations.
Tony acted for the successful defendants in matters such as:
Strong v Woolworths Ltd [2012] HCA 5
Acted for the successful defendant (CPT Manager Ltd) in this matter, a leading High Court authority with respect to occupier's liability claims.
Parker v City of Bankstown RSL Community Club Ltd [2015] NSWCA 246
Acted for the Club in the successful defence of this large occupier's liability claim at trial in the Supreme Court and on appeal.
Smith v Croote Pty Ltd [2014] NSWCA 35
Successfully defended this liability claim arising from an assault outside licensed premises in Lightning Ridge.