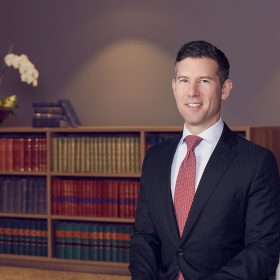 Joshua Knackstredt is a leading commercial junior.
Called to the Bar in 2007, Joshua acts for a broad range of clients in litigious matters involving commercial/ equity, corporations, real property/ construction and insolvency/ bankruptcy law.  He has appeared both led and unled in the NSW Supreme Court, NSW Court of Appeal and Full Federal Court, as well as in other courts both in NSW and interstate, and in various statutory tribunals.
Joshua graduated from Macquarie University with First Class Honours in Law in 2005 and since then has completed a Master of Laws at the University of Sydney. Prior to being called to the Bar, Joshua worked as Tipstaff to the Hon. Justice R P Austin of the Supreme Court, following which he was employed as a solicitor at Clayton Utz.
Joshua was awarded first place in the Bar examinations and was also the recipient of the Dean's Award for Outstanding Academic Achievement (Macquarie, 2005) and Alumni Award to a Recent Graduate for Distinguished Service (Macquarie, 2009). He was President of NSW Young Lawyers in 2008.
Joshua has had a number of business interests outside of the law, including part-ownership and a directorship in a Sydney-based technology company. He is also a Member of the Australian Institute of Company Directors. These external projects have been of significant value to his legal practice, as they have given him hands-on knowledge and experience of the practical reality of commercial life.
Specialisations
Commercial law and equity
Property law
Construction law
Corporations law
Insolvency and bankruptcy law