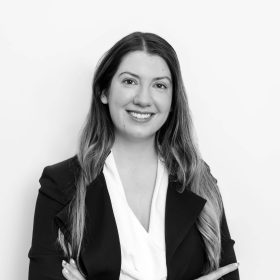 Born and raised in South Australia, Ursula completed her Bachelor of Laws at the University of Adelaide in 2015.
After finalizing her studies, Ursula relocated to Perth to work at the Family Court of Western Australia as Legal Associate for a Family Court Judge.  
Since her admission in February 2017, Ursula has exclusively practiced family law. She joined Leach Legal in 2021.
Ursula has experience working across a broad range of family law matters, including:
Simple and complex parenting disputes
Negotiated and litigated property settlements
Enforcement applications
Spousal and child support matters
Binding Financial Agreements
Family Violence Restraining Orders
Ursula has represented clients at all stages in their family law matters, from start to finish, including during negotiations and at mediations. When agreed outcomes have not been possible, Ursula has litigated matters on behalf of her clients. She has acted for clients at procedural, interim and final hearings in the Family Court of Western Australia.
Neurodivergent family law matters (Autism, ADHD, etc.)
Ursula is particularly passionate about assisting neurodivergent clients and/or clients with neurodivergent children.
She is on the Board of two non-profit organizations which provide services to the Autistic community, Spectrum Space (formerly Autism West) and Autism Camp Australia.
Please note – we have used identity first language above, as this is the Autistic community's preferred terminology.
Who Ursula works with
Ursula works alongside a range of professionals and third parties to ensure her clients receive appropriately tailored advice and support – including accountants, tax advisors, financial planners, commercial lawyers, psychologists, social workers and parenting consultants.
Approach
The foundation of Ursula's practice is firmly built on providing client-focused services. She views it as her role to act as a trusted advisor, helping her clients effectively and efficiently navigate the family law system. The most rewarding aspect of her role is developing resolutions for her clients, helping reduce conflict and providing a pathway for her clients to positively move forward.
Qualifications
Bachelor of Laws (Hons), Bachelor of Arts and Graduate Diploma in Legal Practice from the University of Adelaide.
Memberships
Family Law Practitioners Association of Western Australia
Family Law Section of the Law Council of Australia