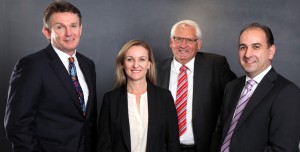 Queensland law firm HopgoodGanim will join forces with Perth-based Q Legal, effective 1 November this year, enabling the combined firm to offer a seamless service for clients across Australia, no matter where they or their projects are based.
The two firms will be incorporated under the HopgoodGanim brand from day one, creating one firm with 30 partners and 240 staff in total.
HopgoodGanim's Bruce Humphrys will remain managing partner of the combined firm, with Q Legal's Kevin Dundo joining the firm's strategic committee.
According to managing partner Bruce Humphrys, HopgoodGanim's expertise in resources and energy, and its corresponding client base, is a driving force behind the announcement.
"A lot of our clients are either based in Perth or have operations in Western Australia. Joining forces with Q Legal enables us to meet the needs of emerging and growth-oriented mining, resources and energy clients. We can now better service our existing client base, in addition to the broader Western Australian and Queensland markets outside of the resources industry."
Humphrys says that the similar cultures and complimentary practices of HopgoodGanim and Q Legal were an important factor in the decision.
"Growth has been firmly on our agenda, but it had to be on the back of our core strengths. Our first priority was to continue to provide the great service we always have to our very loyal clients.
The combined firm will offer the full range of legal services, including specialist advice related to resources and energy projects, mergers and acquisitions, construction and infrastructure, capital markets, insurance, banking and finance, insolvency and restructuring, environment, planning and development, property, litigation and tax.
HopgoodGanim was established in 1974 and is now one of Queensland's largest corporate law firms. The firm advises a variety of prestigious corporate and multinational companies, as well as government and regulatory organisations, across the full range of corporate and commercial legal services.
Established in 2004, Q Legal is a Perth-based boutique law firm. The partners of the firm, previously senior practitioners at a top tier national firm, have considerable experience in a variety of corporate and commercial projects and complex legal issues.