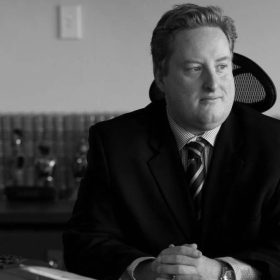 Aaron Kernaghan is the leading litigation lawyer at Good Legal Lawyers.
Based in our Sydney Office, Aaron has more than two decades of experience in Criminal Law and one of the best litigators in the State. His unique experience as a prosecutor and a defence lawyer means he has the expertise of understanding the practice and procedure on all sides of litigation and understanding the unique needs of a defendant. 
Aaron has extensive experience, admitted to practice before the High Court of Australia, the NSW Supreme Court and a member of both the NSW Law Society and the Law Institute of Victoria. 
Since working in the appellate law jurisdictions and for the Criminal Law Review Division of the Attorney General's Department, Aaron practises law in Sydney and throughout New South Wales as a private solicitor. Aaron worked as counsel appearing in many of the world-famous public hearings of the Royal Commission into Institutional Responses to Child Sexual Abuse for both persons accused of serious crime, institutions for which they were employed and for survivors and their representative groups. 
Most recently, Aaron successfully lead the defence of Australia's first person to be found not guilty by reason of mental impairment on a Commonwealth terrorism charge.
In that same case, he lead the successful objection to a Commonwealth expert opinion on whether or not evidence amounted to terrorism.
In over 23 years of practise, Aaron has had significant experience in all types of complex criminal matters, including murder, sexual assault, fraud, stealing, housebreaking, domestic violence, drug and firearms offences. Aaron has an excellent success rate in cases over the years.
SYDNEY: 1/299 Elizabeth Street, Sydney, NSW 2000
WOLLONGONG: 1/288 Crown Street, Wollongong, NSW, 2500
Phone: (02) 4228-3338 or (02) 8251-0070
9 to 5 PM, Monday to Friday.