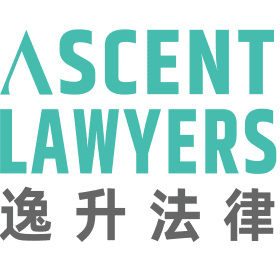 Ascent Lawyers is a people-centric law firm based in Brisbane, Queensland. Founded by the Principal Solicitor, Ms Mengpei Gao, the firm had a humble beginning with no rich décor or elaborate marketing strategies. The success of Ascent Lawyers relies solely on the expertise and passion of the team. Our passion for law keeps us highly motivated and electrified in every client we represent.
After years of dedication, Ascent Lawyers has formed a remarkable legal team and experienced exceptional growth. Our practice areas include
Compensation law
Family law
Succession law
Immigration law
Traffic and criminal law
All clients represented by Ascent Lawyers will always be managed by lawyers with extensive knowledge and, more importantly, a passion for the particular field.
Our Mission
Our firm was founded with a clear purpose: to provide worry-free legal solutions by giving every client legal advice of the highest quality.
It is only through our service excellence and glowing client reviews which have allowed Ascent Lawyers to establish a strong reputation as one of the best law firms in Brisbane servicing the whole of Queensland.
Our People
Our team has a genuine commitment to you as our client. This level of dedication comes from the passion and expertise of our striving team.
We listen and constantly seek opportunities to innovate to ensure our clients are receiving the highest quality solutions with the best value. We make sure your case is always handled with a personal touch, so you never have to worry.
Our Method
We refuse to accept "this is the way we've always done things". We constantly search for opportunities to innovate, so that we can bring you real results with less time and less cost.
We combine the latest innovation and legal expertise to solve your worries. We believe that only client-focused law firms are the ones that strive for innovation.
Now, you know who we are.
Next, let us solve your problem!