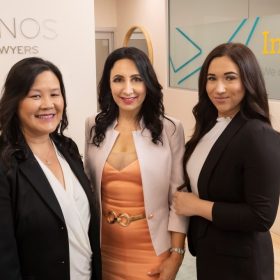 Cominos Family Lawyers was founded in 2010 by our founder Pamela Cominos. She was on a mission to provide family law advice and solutions that protect individuals and keep families out of court. She had just come out of a difficult divorce and didn't want her clients to experience the same. Since this time Pamela's mission has been unwavering.
Today her passionate team of family lawyers continue to deliver on the promise of putting our client's first and providing family law advice that is proactive, meaningful, and simple to understand.
Fair Results. End the Arguments. Move Forward. We help you get there.
We believe in a world where people separate and divorce with dignity, respect, and care. We have provided proactive and quality family law legal advice to over 1,500 clients. We have assisted 97% of clients to resolve their family law matters amicably and successfully.
We offer a comprehensive and wide variety of services in divorce, separation, property settlements, parenting and child dispute matters.
Call us or +61 2 8999 1800, or email us info@cominoslawyers.com.au, or visit our website www.cominosfamilylawyers.com.au
Thinking about joining us? Job Satisfaction. Consistent Mentorship. Purpose and Progression. Send Your Resume. Confidential. All levels of experience. Attitude matters.
Send your Resume with a covering letter to careers@cominoslawyers.com.au
© 2022 Cominos Family Lawyers. All Rights Reserved.
Liability limited by a scheme approved under Professional Standards Legislation.