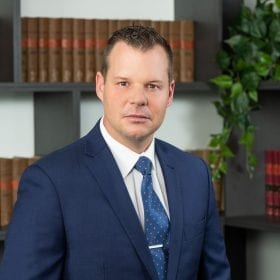 Dave Garratt joined Howden Saggers Lawyers in 2010 and became a partner in 2017.
Dave practises in criminal law and was nominated as Criminal Partner of the Year in the Lawyers Weekly Partner of the Year awards. Dave's practice areas extend from traditional criminal practice through to quasi-criminal matters such as investigative hearings, commissions and coronial inquests.
Dave's career in law follows a decade of experience in the defence of others. As a member of the Australian Army, he completed a number of deployments in Iraq and East Timor and for a number of years a Patrol Commander of a specialist reconnaissance unit within the Infantry.
Dave's life experience, combined with his knowledge of the law, has made him a formidable advocate for his clients. His planning, meticulous preparation and ability to perform under pressure sets him apart. Dave is one of only a handful of solicitors in Queensland who has successfully secured an acquittal for a person charged with double murder.
Dave is currently advocating for his former colleagues arising from an inquiry conducted by the Inspector General of the Australian Defence Force (IGADF) into alleged war crimes in Afghanistan from 2005 – 2016.
Dave's areas of practice are:
Criminal Law
Australian Defence Force Matters
Investigative Hearings
Traffic Offences
Coronial Inquests