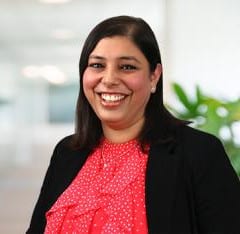 Jean Alim is a Senior Associate and a NSW Accredited Specialist in Family Law. Jean commenced with Marsdens in 2007 and focuses predominantly in Family Law.
Jean was admitted as a Solicitor by the Supreme Court of NSW in 2006, she has a Bachelor in Legal and Justice Studies with a Major in Social Studies and a Bachelor of Laws. Jean is also currently completing her Masters in Applied law (Family law) at the College of Law.
Jean has extensive knowledge in dealing with complex property and parenting matters. Jean has gained valuable experience dealing with matters involving defacto relationships, same sex couples, child support, spousal maintenance and Binding Financial Agreements.
Jean is a mother of four children and appreciates the emotional difficulties a person faces when dealing with a family law matter. Jean is very aware how difficult and stressful this period can be and that's why Jean will always strive to achieve the best results possible for her clients, in a cost effective, professional and efficient manner.
Jean is of the view that going to court is not always the answer and that there are great benefits in achieving a settlement through negotiation. Therefore with suitable matters, attempts to negotiate settlements will always be the first step taken. Unfortunately at times court proceedings are necessary and Jean is quite confident and experienced in representing clients by appearing at the Local Court, Federal Circuit Court and Family Court.
Jean is also involved in various organisations such as Benevolent Society and the Macarthur Legal Centre, where she provides free legal advice. Jean is also a governance director on the board of The Greater Narellan Business Chamber, and on the board of St Patricks College.
Jean is passionate about her work and devoted to help her client achieve a just and reasonable outcome.