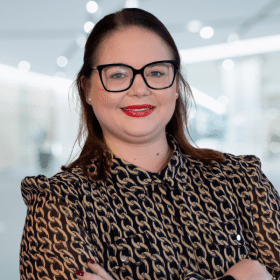 Kimberley Barnes is a highly skilled and accomplished Associate, specialising in the taxation & revenue field within the corporate and commercial advisory division. With her extensive expertise and comprehensive understanding of the intricacies of tax law, she provides exceptional legal services to both businesses and private clients. Kimberley's commitment to her clients is unwavering and her tenacious, astute and dedicated work ethic sets her apart in the legal profession.
Equipped with a Bachelor of Laws and Commerce, Kimberley's accounting background thoroughly complements her legal acumen. Having been admitted as a lawyer in 2016, she possesses a wealth of experience, enabling her to navigate complex legal matters with precision and skill.
Kimberley's meticulous attention to detail, combined with her strong analytical skills, ensures that her clients receive the highest level of representation and advice. She is dedicated to achieving favourable outcomes and exceeding expectations, earning her a reputation for excellence and reliability.