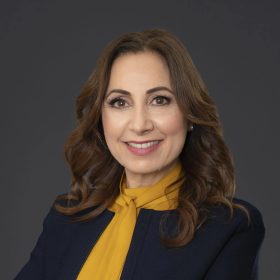 Founder & Principal | Family Law Specialist | Collaborative Family Lawyer
Bachelor of Laws, M.A. English Literature (UNSW), Bachelor of Arts, Graduate Diploma of Education (University of Sydney), Mediation Certificate (Bond University)
In 2010, Pamela founded Cominos Family Lawyers with the determination to challenge traditional legal practice and to transform the experience of clients going through separation and divorce.
Having personally experienced a difficult and acrimonious divorce in 2007 and unable to find a family lawyer who had the unique ability of being a mentor and a strong advocate, Pamela founded Cominos Family Lawyers to deliver legal advice and representation in a clear, timely and meaningful manner.
Since 2010, Pamela has been one of Sydney's top family lawyers. She has provided mentorship, guidance and advice to countless men and women seeking family law services.  Pamela is also a prolific writer, and she is the author of many articles as well as her book "From Heartbreak to Happiness: The 7 Principles for a Healthy Divorce" – buy on Google Books.
Today Pamela leads a team of dedicated, strong, and supportive family lawyers who are all on a mission to challenge traditional legal practice. Her team has a vast and wide experience in all family law matters and regularly represents professionals, executive and financial officers, members of the legal and financial professions and business owners in Sydney, interstate and internationally. Her team has expertise in complex financial matters with large assets and financial resources, as well as child relocation matter and contested custody issues.
All clients are treated with the utmost respect, dignity, and sensitivity. We understand that family violence, relationship breakdowns and financial instability places significant stresses on our clients and this is why we aim to manage all our client's matters in a proactive and timely manner.
It is the philosophy of Cominos Family Lawyers that negotiation and mediation must be at the cornerstone of resolution of family law matters. Litigation is a last resort when all other options have been exhausted. It is our belief that a win-win resolution is not only possible but the most effective way of settling divorce and separation disputes.
We believe in setting up our clients for success and as such we have developed a win-win system that we share with all our clients.
For more information about setting, you up for success, call us on 02 8999 1800 and speak to a member of our friendly team.